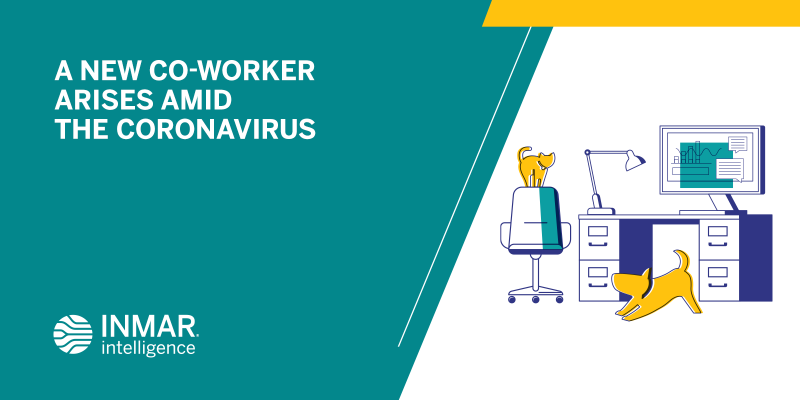 The new co-worker is the family pet. With most of us quarantined to homes and apartments, the family pet is getting more attention than ever. And for those of us who live alone, the pet has been a lifesaver companion and, yes, a co-worker. According to a survey by pet care technology company VitusVet, 52 percent of us are feeling more loved or comforted than usual by our pets.
Owners are actively posting photos of their pets on their social media accounts with 36 percent of those surveyed saying they are taking more photos or videos. They're also sharing them during meetings for work. Twenty-two percent confessed to showcasing their pets in video calls with co-workers. Guilty as charged. 
Pet "employment" is up.
One very positive effect of the personal isolation resulting from the coronavirus outbreak has been increased adoption and fostering of homeless animals. A recent article from NBC News detailing their contact with shelters and animal advocacy organizations in 11 states across the United States reported that every single organization was "overwhelmed" by the community support they were seeing as an increasing number of animals were being taken out of shelters and placed in foster and adoptive homes.
According to the article, Matt Bershadker, President and CEO of the American Society for the Prevention of Cruelty to Animals, said that the organization has seen a 70 percent increase in animals entering foster care in their New York City and Los Angeles programs compared to this time last year. At the same time, Chicago Animal Care and Control reported that, between April 5 and April 12, it had no adoptable animals.
And, while this is certainly cause to smile, experts are not free from worry about the future. As unemployment climbs so could the number of owners who may have to surrender their pets for adoption because they can no longer afford to keep them. Plus, with spay and neutering procedures halted or limited at most veterinarian offices and animal shelters, there could be a serious seasonal spike in animal births.
Pet product sales and services are taking a hit.
Even as pets are getting more love and attention, the overall pet care category is suffering. Packaged Facts' just released US Pet Market Outlook forecasts that total U.S. retail sales of pet products and services will decline by 17 percent in 2020. The group expects non-medical pet services to suffer the sharpest sales drop in 2020, at 47 percent. They're also projecting sales for veterinary sector and non-food pet supplies to drop significantly in 2020.
However, the group does forecast that pet food, the largest pet industry sector, will grow four percent this year. Just as many consumers have "pantry stocked" toilet paper and other essentials, pet owners have stockpiled pet food and supplies. eMarketer recently reported a 10-15 percent increase in U.S. adults' average monthly spending for pet supplies in the month of March -- due to the coronavirus outbreak.
And during an April 2 earnings conference call for Chewy, the company's chief financial officer, Mario Marte, was quoted by Pet Product News as saying the company expects Q1 2020 net sales to show year-over-year growth of between 35 percent and 37 percent. Chewy is hiring between 6,000 and 10,000 employees at its fulfillment centers to handle the sales spike, according to an April 2 article in Forbes.
Pet care is going digital.
Packaged Facts projects that much of the current and future sales activity in the pet care category will occur online. They're forecasting the online share of overall pet product sales to reach 24 percent this year and 26.5 percent by 2024. 
This projected growth between 2020 and 2024 may be too conservative, however. While current levels of online shopping are anticipated to taper off once stay-at-home orders are lifted, we expect that e-commerce purchasing -- across categories -- will continue to be a regular part of the shopper journey/purchase cycle. 
E-commerce is a great play for pet care as our 2020 Inmar e-Commerce Study (completed before the pandemic) found that 44 percent of online grocery shoppers were already buying pet food and/or supplies online. Now, when you combine the inherent convenience factor of online shopping with the currently prevalent safety factor, you have a sales channel that's seemingly perfect for pet care. 
There's additional incentive for sellers to make full use of e-commerce as, according to eMarketer, 58 percent of U.S. internet users who purchased pet supplies are willing to pay more for the convenience of making purchases online.  
Online sellers that optimize their e-commerce platforms, employ the order-driving tactic of auto-replenishment and fully leverage the power of sales-driving digital promotions will be those that create a base of sticky customers. But, maintaining excellent customer service will be paramount in keeping customers loyal after the pandemic subsides. After all, owners need love and care -- just like their pets.