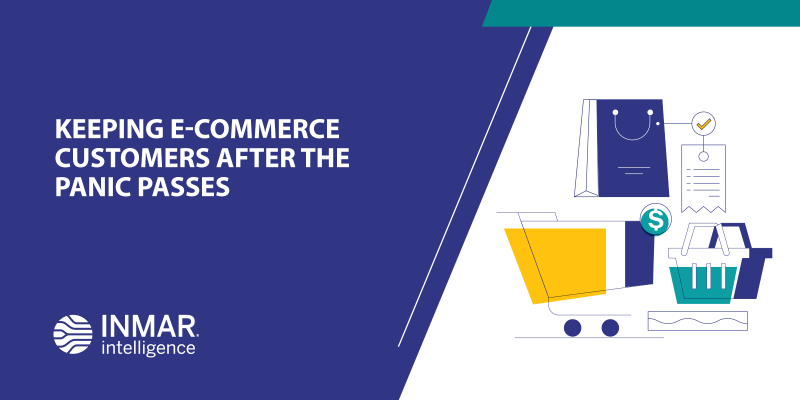 Last week, an article in Progressive Grocer posed the arguably rhetorical question of "Will Record Online Grocery Sales Continue After COVID-19?". From our perspective, the answer is an unequivocal "yes." However, there is no guarantee that a shopper who buys online from a specific retailer today will continue to buy online from that retailer in the future. As more retailers quickly launch e-commerce platforms, shoppers will have more options on where to spend their grocery dollars in the long-term. 
Therefore, the more pressing query, perhaps, centers on what grocery retailers will need to do to retain new e-commerce customers and protect the share of business they've acquired during the current crisis. That's the issue that demands the most immediate attention -- and action.
Online orders today don't guarantee long-term loyalty.
Surveys abound that point to first-time online grocery shoppers open to the idea of continuing to use e-commerce to stock their pantries once social distancing and stay-at-home orders have been lifted. However, there's a lack of data around how many of these first-time online grocery shoppers have shifted purchases to new retailers in order to utilize their e-commerce services. 
Our assumption is that factors such as product availability, slot availability, picking and delivery fees, etc. have influenced where shoppers buy groceries online today. This not only poses a challenge to, but also presents an opportunity for, grocery retailers who want to maintain their high volume of online sales.
Shopper selectivity will return.
Once a sense of normalcy returns, we believe that shoppers will reflect on their online experience with a particular retailer. Now more confident and capable in online grocery shopping, consumers will return to the retailers they believe were the most helpful, the easiest to shop and the most responsive to their needs during a difficult time – regardless of where they shopped prior to the pandemic. If they are truly satisfied with the service received, they will continue to shop online from a retailer, and may even convert some of those online sales to in-store purchases.
Now is the time to improve.
Retailers are working overtime to ensure the safety and well-being of their shoppers and employees. We applaud and appreciate their efforts to keep our communities fed and protected during this pandemic. Therefore we want to see them excel in the long-term. To do so, retailers may need to make a few minor adjustments to their current e-commerce offering. 
The first is to make it very easy for online shoppers to contact you. Post your customer service phone number and email front-and-center on your website. Use chat bots or social media to communicate with shoppers as needed. The second is to identify potential roadblocks in the online experience. Review your online traffic data to map the customer journey and determine commonalities among abandoned baskets. If you find points in the online experience that have a high drop rate, address those first. 
Lastly, consider how you can temporarily reduce any picking and delivery fees for your shoppers. Offer extended free trial subscriptions, subscriptions at a reduced rate, or even waive fees on every fifth order. Get creative! Anything you can do now to support your online shoppers – whether they are new to the service or not – will impact their perception of you, and their loyalty to you, in the long run. On that point, there is no question.