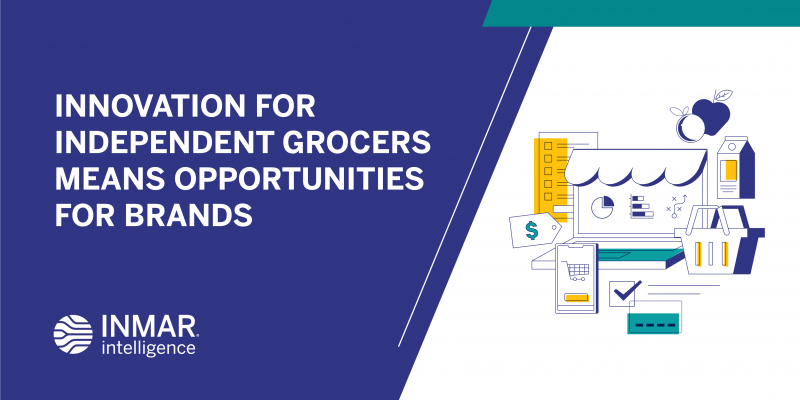 An April 27 article in Total Retail highlights the increased interest among CPG brands in investing shopper marketing dollars into national and regional grocers' digital consumer engagement channels and e-commerce platforms. We agree this is an intelligent strategy and our data, aggregated from multiple sources, demonstrates that brands can drive revenue through targeted media campaigns on grocery retail websites. 
However, what the article fails to address is the significant opportunity that exists for brands to drive sales by promoting their products across independent grocery retailers' e-commerce sites. 
A rapidly developing engagement channel
National and regional supermarkets have done their best to respond to the exponential increase in e-commerce activity that's occurred over the last two months but most have struggled (and continue to struggle) to accommodate all the online orders. As a result, frustrated, in-need shoppers are pursuing shopping alternatives and more and more are turning to local, independent grocery retailers to feed their families and stock their pantries. 
Recognizing the need to provide a competitive online shopping experience, independent grocery retailers are looking to establish e-commerce operations or are actively working to enhance their existing digital engagement platforms. This e-commerce expansion/improvement effort among the hundreds of community retailers that already command tremendous local loyalty provides brands a great opportunity to expand their reach and target additional shoppers online. 
Increasing opportunities for brands of every size
One immediate way for brands to leverage the power of smaller retailer sites to drive sales is by deploying digital promotions for products available online. An analysis of coupon redemption activity we just completed found that redemption for digital promotions in Q1 2020 was up 20 percent over the first quarter of 2019.
At independent stores, online discounts can be highly effective in differentiating a product from a typically more limited set of competitors. These offers can also drive trial and product loading. 
A shopper survey we fielded in the last week of March found that, among shoppers who purchased a particular brand for the first time (either in store or online), 22 percent reported they did so because they had a digital coupon for the product. This compares with 10 percent of shoppers who cited the same motivation for their behavior in Q1 2019. 
Another way for brands to grow share among "independent shoppers" is sponsored product placement on retailers' homepages and appropriate category pages. Longer-term online marketing strategies for brands include sponsored search results, product collections or curations, targeted ad units and shoppable recipes. All of which are executable through the expanding independent grocery e-commerce ecosystem.
Innovation for advancing engagement
This week, we announced the release of our new e-commerce platform designed for independent grocery retailers. This innovative e-commerce solution, powered by Inmar's Retail Engagement Platform, combines front- and back-end features for driving and fulfilling online orders and can be up and running in four weeks or less. 
In creating this robust, expandable and easily deployed e-commerce solution, we were very purposeful in integrating opportunities into the system for CPG brands to collaborate with retailers to drive greater awareness of, and sales for, their products. In addition to the online shopping functionality, this comprehensive solution gives the grocery retailer access to promotion, loyalty and media features to support brands, grow consumer engagement and accelerate activations.
Our belief is that by bringing this online solution to our independent retail partners, we are able to not only assist them in meeting shopper demand but also further enable business growth for our CPG partners. And while doing so, help keep shoppers safe and healthy during this challenging time.