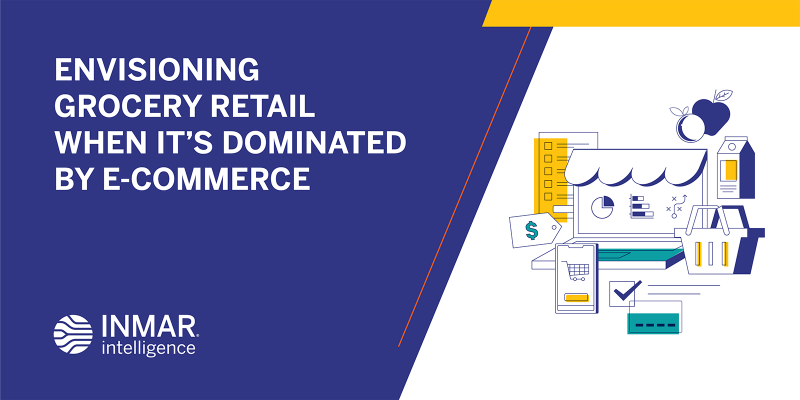 The coronavirus is transforming grocery e-commerce -- and the entire grocery industry -- almost overnight. While online grocery shopping was expected to make sizable gains against traditional brick & mortar retail in 2020 the tremendous, and unforeseen, spike in online activity has invalidated even the most optimistic growth expectations voiced prior to the onset of the pandemic.
And, honestly, "spike" doesn't really do justice in describing what we're seeing in the marketplace. According to data from Rakuten Intelligence in the four days between March 12 and 15, 2020, the number of online orders received by full-assortment grocery merchants grew 151.1% while the dollar value of these orders was up 210.1%. That's right -- an increase of more than 200%. Unbelievable. Well, it would be under any other circumstance but not now.
Online grocery shopping will be a central element of the "new normal."
So, does this mark the formal arrival of the universally anticipated "new normal?" While it's not likely that these kinds of numbers will remain constant, there's every reason to expect grocery e-commerce to maintain its current upward trend -- and eventually dominate grocery retail. 
According to a report from Brick Meets Click and ShopperKit, almost 40 million households in the U.S. shopped online for groceries in the month of March. At the same time, 43% of the shoppers surveyed said they were "extremely likely" or "very likely" to continue online grocery shopping after the coronavirus crisis passes. With retailers working quickly to expand and enhance their e-commerce operations and shoppers' online experiences improving as a direct result of these efforts, this pandemic-driven "return business" looks to become permanent. 
There will be fewer grocery stores and many of those that remain will be "dark."
The number of traditional grocery stores in the U.S. was already contracting before the pandemic and, as the still uncertain future continues to develop, additional store closings are inevitable. Extended stay-at-home orders, growing shopper apprehension about physical contact with hard surfaces, new information as to how the coronavirus can be transmitted -- and its forecasted cyclic return -- will all continue to drive down the number of shoppers willing to shop in-store at brick & mortar locations. And, as a result, the number of stores maintaining traditional operations will shrink.
Many of those stores that do remain in operation will be "dark" and used exclusively to fulfill online grocery orders -- for at-home delivery as well as on-premises pick up. These will, ultimately, be highly automated facilities and may well become the proving ground for robotics as an innovative means to enhance operations and improve efficiency.
Regardless of how fulfillment is physically executed, these locations will offer a host of customized services and be structured to meet shoppers' collective demand for personalized engagement and interaction. Product assortment will reflect geo-local preferences and optimization will be continuously enabled by immediate access to a trove of digital selection and purchase data.
Promotions will be exclusively digital.  
Paperless digital promotions have been enjoying exponential growth in both redemption volume and distribution quantity for the last several years. However, the proportion of overall coupon distribution volume attributed to these offers has remained a fraction of that commanded by paper coupons. That is going to change. Completely. 
The presence of digital promotions in the marketplace will be pervasive and their use with online grocery orders will be a seamless and nearly effortless endeavor for shoppers. This will not happen overnight and building out the necessary infrastructure will require close collaboration between brands and retailers and their marketing partners, but it will come to pass. And the benefits to both trading partners and shoppers will be significant.
Conversely, the popularity of paper coupons with saving-minded shoppers has been steadily falling for years and the pandemic is signaling their final demise. Even as wary shoppers became hesitant to handle paper coupons, they were leapfrogged by a number of grocery retailers announcing they were no longer accepting them. The number of retailers refusing these coupons is only going to grow and this will be the ultimate motivation for brands to abandon this legacy promotion method. Paper coupons will just not have a place in the "new" grocery retail ecosystem.
Grocery e-commerce will be reflective of the industry's digital transformation.
As brands and retailers are greatly in need of integrated technology that will provide the transparency, flexibility and customization required to thrive in the new age of retail, the eventual marketplace dominance of grocery e-commerce will be a testament to the availability of that technology and trading partners' successful digital transformation.
It may sound aspirational, but it's coming sooner than you think. And when it arrives, hang on!
Click below for more insights into engaging consumers in the midst of marketplace disruption.
To better understand the importance of having transparency from your marketing partners and how we ensure that our clients have this critical visibility, download our white paper, "The Transparency Imperative: What Brands Should Demand From Their Partners."