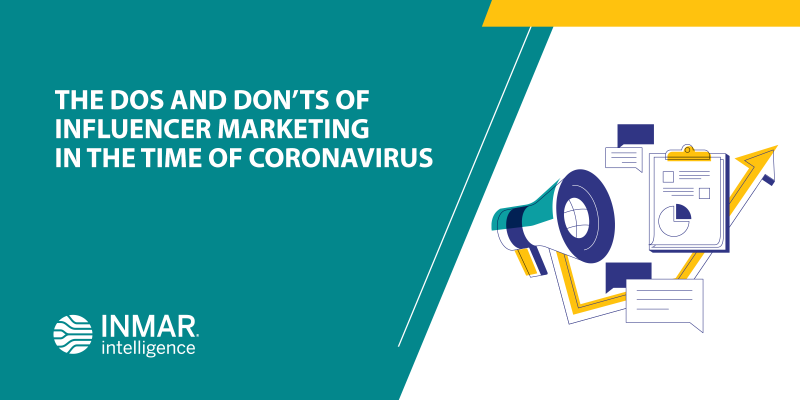 While the world continues to isolate day after day, the collective craving for personal interaction – for "humanity" – is only increasing. The result is an opportunity for brands and retailers to help satisfy this longing and, in doing so, not only improve people's lives, but also foster relationships that will remain in place long after the current crisis has passed. And one of the best ways to leverage this opportunity, to the benefit of all involved, is through thoughtful and on-point influencer marketing.
Recent online activity has soared with audiences looking for helpful and hopeful content as they seek a sense of community even while sheltering in place. Our most recent social listening found several significant spikes, including:
362% increase in conversation around grocery pick up and delivery
80% increase in interest in maintaining a healthy diet
51% increase in search for activities for children
181% increase in exercising at home 
One of the main reasons influencer marketing has grown so quickly as both an engagement tool for marketers and a source of decision-guiding information for consumers has been the proven ability of skilled influencers to consistently deliver relevant, authentic content and truly connect with people through shared passions. 
There's never been a better time, or greater need, for building human connections through the sharing of meaningful content. However, brands and retailers need to navigate today's troubled waters carefully. Here are some key recommendations for helping ensure safe passage:
Do be extremely careful with messaging.
While so much has changed in recent weeks, what hasn't changed is the absolute requirement that influencer content be immediately relevant and unquestionably authentic. Consumers' current needs are fluid and marketers must keep up in order to ensure messaging is on target. Messaging must be timely, "in tune" and reflective of what's happening. Trying to fit previously conceived influencer marketing initiatives into this new landscape just won't work.
Don't rush when selecting influencers. 
It's never been a good idea to make hasty decisions regarding influencer selection. But making sure influencers are the right "fit" is critical during this challenging time. Not only do influencers need to demonstrate appropriate affinity relative to a campaign, they need to be master storytellers fully capable of delivering authentic content that will resonate with targeted audiences. 
Are web-celebs or celebrity influencers appropriate to use right now? They're certainly populating plenty of virus-related PSA's but past research has shown their value to more typical campaigns to be very limited, at best, and there's no evidence to suggest that's changed. 
A "micro-influencer" strategy employing established and trusted influencers with real credibility among loyal and active audiences is arguably much more appropriate and promises to be much more effective. They're much better positioned to genuinely connect with consumers as they make the most of established, personal relationships within the communities they serve.
Do employ social listening.
Influencers and their communities are excellent sources for feedback on, and insights into, the effectiveness of current marketing efforts. It's important to leverage all available information to make sure that content is resonating with audiences and creating desired connections – not alienating a shopper base that, now more than ever, is looking for help from trading partners.
Social listening can generate ideas and capture data about audience and content and even competitors. At a time when advertisers need to be hyper-sensitive to consumer dialogue and their related messaging and content, active social listening is not optional.
Don't underestimate the power of influencers – especially now.
Consumers, hungry to know more and eager to find ways to cope, are being inundated with information from a virtually unlimited number of sources. This is making it even more difficult than usual for marketing messages to be heard through the noise. 
But, even in the midst of this deluge, influencers are still able to reach and engage audiences that will long appreciate those they see as trying to help make a tough situation better. People like stories about other people (like them) and that, of course, is the contextual core of effective influencer marketing. Engaging real people – not avatars, human or otherwise – to tell real, compelling stories can bring all-important relevance and impact to a campaign. 
Whether it's delivering recipes for healthier, more affordable or easily prepared meals, providing guidance on personal safety or offering instructions for DIY projects, influencers are uniquely positioned to engage consumers in a very personal and profound way. Enabling the consistent delivery of valuable content when consumers want it and need it most is going to build, strengthen and maintain sponsor-consumer relationships that are going to last for a long time to come.
Right now, certainty is in seriously short supply. Swirling market forces and Mother Nature are combining to make effective shopper activation extremely difficult. As a result, previously established marketing strategies need to be revisited with reallocation of budgets deserving of similar scrutiny. 
And, while it would be folly to promote a single marketing approach as being singularly superior in the midst of the ongoing disruption, the power, past success and obvious applicability of influencer marketing in the present circumstances should make using this tool a "no brainer" for advertisers.