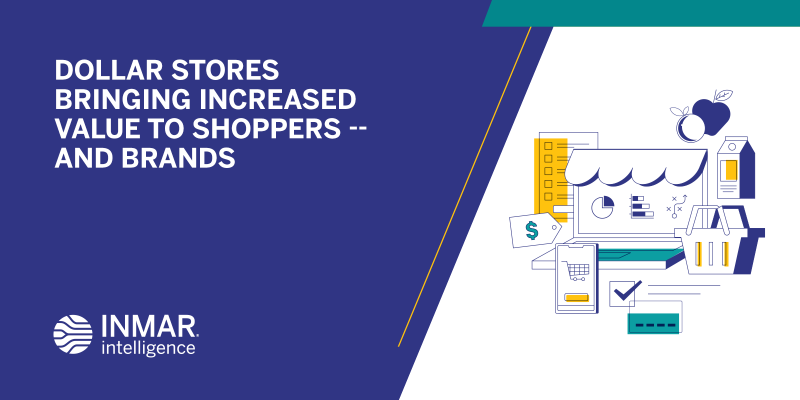 The dollar channel has been growing, and maturing, for years and the future for this channel has never looked brighter. Dollar stores were already experiencing sizable year-over-year sales gains in the pre-pandemic economy and now, with the country racing into a recession and shoppers facing economic hardship, every indication is that those gains are going to continue and, very likely, increase. 
At the same time, brands choosing to be part of the dollar channel's future by proactively and strategically engaging with retailers in this sector will be those that enjoy a competitive advantage for gaining share and growing revenue in the challenging months, perhaps even years, ahead.
Shifting shopper behavior. Increasing sales.
Shopper demand for a convenient, value-rich retail experience has been increasing for some time and the trend has brought significant foot traffic and sales growth to dollar stores. Inmar's analysis of the channel found sales for these retailers growing 5.7% in 2018. Headlining the 2018 growth story was Dollar General reporting a 9.2% increase in net sales for the year. That upward trajectory continued into last year, as the company recently reported an 8.3% increase in fiscal year 2019 net sales.
While traditional grocery has been experiencing significant short-term sales growth due to panic buying and pantry stocking, these phenomena have largely passed. Shoppers who were already looking away from the supermarket to make their grocery purchases are going to return to those behaviors and the dollar channel is ready for them -- more conveniently located than ever before.
More locations. More opportunity.
The location aspect will be particularly impactful to dollar channel sales growth as some elements of "safe shopping" will remain part of the shopper journey, and the in-and-out convenience provided by the rapidly expanding dollar store presence will accommodate that behavior very nicely. Physical expansion has been central to the channel's sales growth and our 2019 Future of Food Retailing Report put nationwide dollar store count at 33,382 in 2018, an increase of 3.8% over 2017.
Clearly dominating the expansion has been Dollar General. The company currently operates more than 16,450 stores throughout the United States. This is up from 16,186 stores in 2019. Bullish on future growth for themselves and the entire dollar channel, company leadership at Dollar General was, as late as mid-March, forecasting another year of same store sales growth and holding on to plans for 1,000 new stores.
With this expansive footprint, dollar stores represent an incredible opportunity for brands to reach a store-loyal shopper base that is increasingly diverse and eager to find their favorite brands on shelf at their new favorite retailers.
Changing conditions. Greater potential.
With unemployment at record levels, consumers facing mounting economic pressures and out-of-stocks continuing to plague traditional retailers, dollar stores are serving new customers they are increasingly well-positioned to retain. Improvements to the in-store experience, growing assortment and the availability of fresh produce and frozen foods are combining to both attract and keep a diverse set of shoppers.
The addition of fresh produce and frozen foods, in particular, is proving to be a draw for shoppers as their absence has historically been an "assortment issue" for these retailers. But, with initiatives like Dollar General's DG Fresh self-distribution program, this challenge is quickly being addressed. As an example of the channel's commitment to increasing these offerings, Dollar General recently announced that their program will distribute "fresh and frozen" to 12,000 stores by the end of 2020, up from 6,000 currently.
As more and more consumers discover the value and variety available from dollar stores and "come aboard" as committed shoppers they're going to be joining a large and long-established core group of customers that already shop the dollar channel every week for their groceries. Efforts throughout the channel to improve the in-store shopping experience and eliminate the last vestiges of any stigma attached to shopping in the dollar channel are expanding store appeal among a broader shopper demographic.
The growing presence of more affluent shoppers promises even greater opportunity for increased brand engagement throughout the dollar channel -- but only if the products these shoppers are used to buying elsewhere are readily available to them. And, not surprising, brand trial is a regular part of the dollar store shopping experience as 70% of the dollar channel shoppers we surveyed reported that they had tried a new brand for the first time at a dollar store.
"Shared" real estate. Concurrent benefits.
Certainty is in seriously short supply, right now. But, what we do know is that tough times are here for the foreseeable future and both shoppers and brands are going to have to adjust in order to effectively address current, and future, challenges. 
Value-conscious, economically-pressured dollar store shoppers are going to be seeking a safe, convenient shopping experience that includes bringing home their favorite brands in order to maintain some sense of normalcy in a world turned upside down. At the same time, CPGs are going to continue competing for brand loyalty lost during the "inadvertent trial" brought on by recent panic buying. Both groups will be looking for opportunities to maximize in-store ROI and it's going to be the dollar store where the two are going to meet -- and mutually benefit.