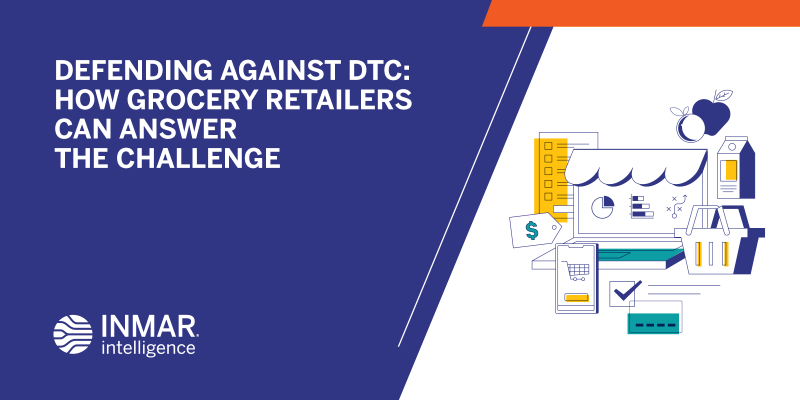 Consumer Goods Technology recently ran a story reporting that PepsiCo "launched two new direct-to-consumer websites this week...in response to increasing demand from the COVID-19 health crisis." Neither the company's move nor their speed in executing on the initiative are particularly surprising given the growth of grocery e-Commerce and PepsiCo's long-term investment in native digital capabilities. 
Still, their entry into DTC sales could be a foreshadowing of larger things to come. While only an estimated 20% of CPGs have an operational DTC function, interest in this potential revenue stream has been steadily growing among these manufacturers. According to a report from Digital Shelf Institute that was shared with Retail Dive, "between 2015 and 2019, $3.3 billion was invested in consumer packaged goods with a direct-to-consumer component, accounting for nearly 60% of all money invested during that period." 
The growth opportunities and operational challenges presented to CPGs looking to go directly to consumers with their product offerings has been well documented -- as has their hesitancy (perhaps, reluctance?) to fully commit to developing this sales channel. Now, however, the current health crisis is giving impetus to manufacturers to reconsider their strategies.
Regardless of what action CPGs may (or may not) take in the immediate future, what should grocery retailers do -- now -- to address even a potential threat to their in-store and e-commerce sales volume? Here are three strategies that retailers can employ to protect both share and their relationships with trading partners: 
Partner with brands to accelerate mutually beneficial innovation.
Brands are hungry for data on consumers and eager for additional insights into shopper behavior; retailers that share data with trading partners and work with them to develop opportunities to test and learn around shopper activation will gain a significant competitive advantage. Actively enabling this kind of collaboration will make CPG partners much more likely to invest in multi-channel, co-branded events with retailers that are targeted to shared audiences. The cumulative benefits can include accelerated product innovation, increased promotion efficiency, greater marketing ROI and more effective and long term shopper engagement. 
Revisit current e-commerce merchandising strategies to expand options for shoppers.
Consumers are demanding easier and more flexible ways to shop. Retailers looking to defend against the shopper-attracting components of DTC should expand the availability of programs offering the same convenience, including auto-replenishment, custom subscriptions, meal kits and product sampling. In addition, retailers can increase their competitiveness by featuring unique private brands/geo-local offerings and by executing personalized, co-branded programs with CPG partners. 
Experiment with new marketing communications.
As consumers' general online activity continues to increase -- along with their use of grocery e-commerce -- retailers will need to find new ways to communicate with shoppers if they're to stand out in a very crowded digital marketplace. To do so, retailers must step out and experiment with different digital media strategies, including both proprietary efforts and cooperative initiatives involving willing and able CPG partners. Now is the time for retailers to learn fast and adapt while maximizing, as much as possible, personalization of the message at every touch point. 
The widespread presence of CPGs executing direct-to-consumer sales programming in the grocery e-commerce space is not a question of "if" but, rather, "when." Therefore, retailers need to explore and develop strategies to enhance and maintain their competitiveness. And they need to get started now.