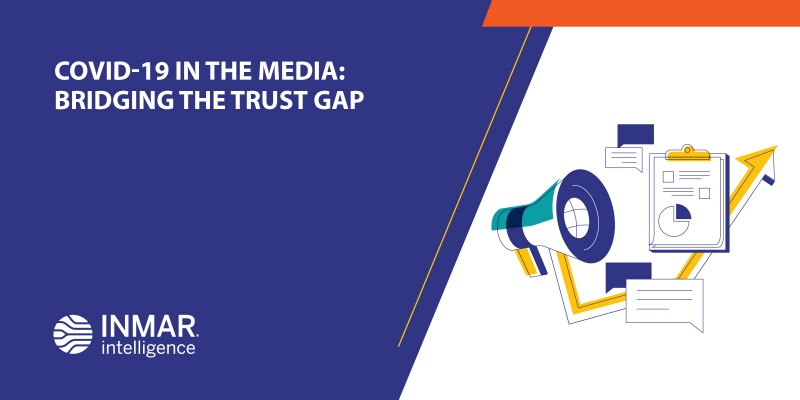 At a time when concern about the spread of misinformation is high, building trust remains a key task for marketers. 
In mid-December, the first person in the US received the Pfizer/BioNTech COVID-19 vaccine, which was a ground-breaking moment in history. It was also a crucial step towards the return to normalcy and a post-COVID world. In the weeks and months ahead, it will be crucial to communicate correct details about the development and distribution of the vaccine to the general public. 
With the continuous transition to a digital-first economy hastened by COVID-19, social media now plays a critical role in the spread of accurate vaccine details. After all, there are approximately 247 million US social media users as of 2019 (and to put things into perspective, the US has an approximate population of 328 million, meaning over three-quarters of the US population are on social media). Even if social media isn't a main source of news, users are exposed to conversation on nearly every topic imaginable — including the COVID vaccine. Therefore, influencers have become an incredibly important part of the dissemination of accurate information as it pertains to the virus. Over the last nine months, celebrities and influencers have been recruited by government agencies, as well as brands, to promote proper mask wearing and social distancing. Now they are being recruited to advocate for vaccine acceptance.
At a time when concerns about misinformation and distrust in the media are high, it's key for social media influencers to build trust by sharing accurate vaccine information. To dive deeper into this topic, Inmar Intelligence conducted two associated surveys related to the COVID-19 vaccine — the first directed at consumers to measure overall trust in influencers to relay accurate information on the vaccine, and the second directed at influencers to gauge their willingness to promote the vaccine.
Consumer's Trust in Social Media Influencers: Credibility is Everything 
According to the consumer survey, 80 percent said they are concerned about the spread of misinformation regarding the COVID-19 vaccine on social channels. 
The majority of consumers aren't looking to social media influencers for expert advice on the COVID-19 vaccine, however, they are still expecting influencers to showcase their personal experiences getting the vaccine. Rather than sharing medical information, consumers expect influencers to share information like where to get the vaccine, overall experiences at vaccination locations, and what getting the vaccine means to them.    
While consumers don't trust the typical social media influencer to provide expert medical advice, 75 percent of consumers do trust social media influencers more than the media when it comes to sharing accurate resources or recommendations for the vaccine, indicating that influencers still have an important role to play in this communication process.   
However, when it comes to disseminating accurate information about the COVID-19 vaccine - how it works, it's effectiveness, side effects, differences between the vaccines -  the one group that consumers most trust is healthcare influencers. 81 percent of consumers said that they'd be more willing to trust healthcare influencers over other types of influencers, meaning marketers should leverage this group as an important part of their influencer campaigns.
Influencers Are Willing to Promote the COVID-19 Vaccine (and are Confident to Do So Accurately)
For the influencer survey, 82 percent said they would feel comfortable advocating for vaccine acceptance as part of a sponsored post, and a majority (67 percent) agreed that they have an obligation to use their platform to spread awareness on public health issues like the COVID-19 vaccine. Over half of influencers (53 percent) would be open to discounting or waiving their standard fees for the positive promotion of the COVID-19 vaccine due to the importance of this cause.
With influencers on board to incorporate content about the vaccine into their respective channels, and 88 percent feel confident in their abilities to accurately provide and share factual resources, they will need to be mindful of consumer expectations and general warriness about the spread of misinformation. Influencers can retain authentic engagement and connection with their followers by sharing information about their personal vaccine experience - how long were wait times, was the pharmacy practicing proper social distancing protocols, did they have any side effects, and resources from medical professionals where their followers can find more information. 
So How Can Marketers Bridge this Trust Gap?
In order to combat the concern over misinformation regarding COVID-19 on social channels, while maximizing investment and connecting with consumers, marketers should engage with healthcare influencers, who hold a higher level of trust among consumers when it comes to sharing expert advice. But, that doesn't mean typical social media influencers should be counted out. Overall, consumers look to influencers for advice and to share their personal experiences - this was especially true at the height of COVID lockdowns in March 2020 as many influencers were tapped to share work-from-home tips, entertainment ideas, home exercise resources, and recipes. As we continue into 2021, consumers are going to expect increased accountability from influencers to use their platform for good, which might require marketers to reassess their influencer strategy in order to amplify the right messages while maintaining consumer trust.