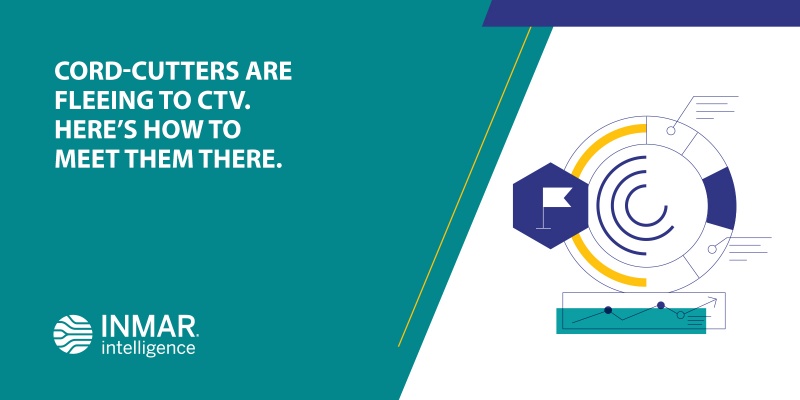 The relationship between human and television reached a point of no return during COVID-19 lockdowns. Time spent with CTV devices was up 81 percent year over year, amounting to around 4 billion hours of CTV use per week. CTV investments grew over 40 percent in 2020, and over 90 percent of advertisers have plans to increase CTV budgets in 2021. But CTV isn't necessarily expected to maintain mid-pandemic numbers as viewers get increasingly comfortable disengaging from devices and re-entering public areas. Though this percentage will fall as restrictions are lifted, the damage is done; consumers are now more attached to these devices and programs than ever before, and opportunities to engage with them are suddenly endless. 
On The Hunt For The Connected Consumer
CTV is big, and it's only getting bigger. In a very small window of time, Connected TV (CTV) is capable of forming a relationship between brand and consumer that results in increased brand awareness and a higher likelihood of that viewer becoming a customer.
What's more, users in this large base manage accounts on a wide range of media services and actually demonstrate impressive engagement with CTV campaigns. 
Advertisers are becoming more familiar with the capabilities of CTV over traditional television, including improved audience engagement, more strategic and effective targeting, more worthwhile spending at lower costs, and precise measurement of results.
A greater number of television viewers are cutting the cable in favor of connected TV services and, in doing so, are spending more time with brands and forming lasting mental associations with advertising content. The conjunction of these statistics points to a single, inevitable conclusion: CTV's potential is enormous, and this is the perfect time to jump in. 
How Do I Make The Best Use of CTV?
CTV is a virtual playground for brands, an enclosed environment that encourages creativity, levels the playing field for brands seeking exposure, and allows for sandbox testing of different types of content to tailored audiences. 
By joining data, technology, and tempered strategy, success with CTV is easily within reach. As viewership increases alongside consumer interaction with OTT advertising content, activation of a complete CTV solution gets your message in front of an audience that is more than ready for it. 
Recognizing the growing rate at which consumers have been replacing traditional television with CTV, Inmar Intelligence has extended our base of key 1st and 2nd party shopping data available in our ShopperSyncTM platform for use in precise targeting across OTT apps in CTV households. Attainable by way of this intersection of data and technology include:
Key Shopper Data: Gain access to qualified shopper segments from over 800 retailers and brands via ShopperSyncTM.
Customization: Implement layers of additional filters, such as geo, to address specific campaign requirements and deliver on unique KPIs.
Activation: Activate CTV campaigns that use Inmar's proprietary data via the Inmar Managed Services team.
Measurement: Understand the reach and efficiency of your campaigns with engagement metrics such as video completion rate and cost per view.  
These features allow marketers and advertisers to get the most out of their CTV approaches. Specifically, Inmar solutions are delivering precision targeting of verified shopper data across over 5,000 premium OTT apps, bolstered by access to 46 million households on CTV devices. 
However you plan to approach CTV, just be sure to engage soon. Consumer trends speak to an ever-growing number of cord-cutters, though these cable refugees aren't giving up on television entirely. Instead, these consumers are evolving in their relationship with internet-connected devices and inviting more customized advertising into their homes. Are you ready to offer what they want when they want it?
Contact Inmar Intelligence for more information on CTV and the solutions that will allow you to activate it effectively.