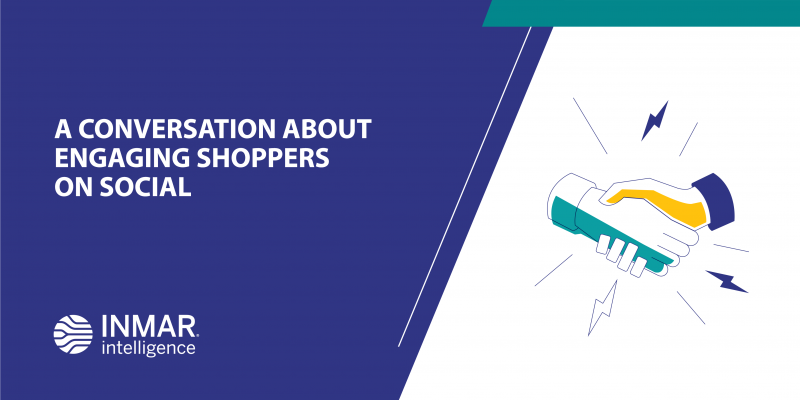 Diana Medina, our Director of e-Commerce Solutions, spoke recently with Denise Singler, Digital Marketing Manager at Stater Bros. Markets. During the conversation, Diana asked her where she saw the biggest opportunity for digital engagement in grocery. Denise didn't hesitate in offering "Where I see a big opportunity, here and with other grocery retailers, is in social." 
Data from our 2019 Shopper Insights Study shows that Singler's perspective is spot-on. A healthy proportion of shoppers (20%) follow CPG brands and/or retailers on social media. Furthermore, Inmar's recently completed Technology in Grocery Retail Survey found 44% of shoppers have used social media while shopping in the store. Click here for a recording of the Technology in Grocery Retail webinar. 
What can retailers do to effectively engage shoppers online? 
When asked this question, Singler detailed Stater Bros. Markets' efforts to extend their in-store retail customer service experience into social and, as she put it, "make that digital handshake." To enable and enhance these efforts, Singler and her team at Stater Bros. Markets opened up their social platforms to their CPG partners, providing them a stage on which to share their brand stories through engaging content. The result? "Our Facebook engagement rates are off the charts," said Singler. 
So, what types of content should retailers post on their social channels to realize similar engagement? According to our latest Shopper Insights Study, among those shoppers who follow brands and/or retailers on social media, 61% are looking for information on offers and coupons while 18% follow to see what others are saying about these trading partners. 
Therefore, to keep these followers and continue to earn their business, retailers need to be consistent in posting information about special promotions, exclusive offers, new products and recipes, and in-store events. Additionally, retailers should use social to invite, and incentivize, shoppers to provide feedback on their favorite in-store experiences, recipes and products. Maintaining this level of new content creation can be daunting so retailers should take a tip from Singler and invite their CPG partners to participate in the engagement.
Three ways CPG brands can use social media to engage shoppers.
CPG brands are spending more than ever to try and engage with consumers via social media. Statista reported that, by 2020, marketers are expected to spend more than $10 billion promoting their products across social networks. Bigger budgets, alone, won't guarantee success and that spending has to be hyper-strategic in order to drive the desired results.
Here are three recommendations as to how brands can maximize ROI on their social media spend:
Take full advantage of influencer marketing. Easy to execute on even the tightest schedule, influencer campaigns represent an excellent way to deliver authentic, informative content that shoppers trust -- and respond to. And with verified-view pricing available, brands can be guaranteed that they're getting the engagement they're paying for.

Employ 2nd Party Data strategies. With access to their retailer partners' shopper and purchase data, brands can better target online display ads -- for both national campaigns as well as shopper marketing initiatives -- and ensure their marketing dollars are spent where they'll do the most good.

Leverage retailers' social media presence and platforms. Singler and Stater Bros. Markets aren't the only retailers willing to "share the stage" with brands for everyone's mutual benefit. Brands should explore these co-op opportunities to build awareness and drive sales.
Effective use of social media is a huge opportunity for retailers and CPG brands to engage shoppers throughout the marketing funnel and Inmar is equipped to help. Contact us here to learn more about our solutions for enhancing sales-driving social media strategies.
Ellen Smith
PRODUCT MARKETING MANAGER, media & influencer