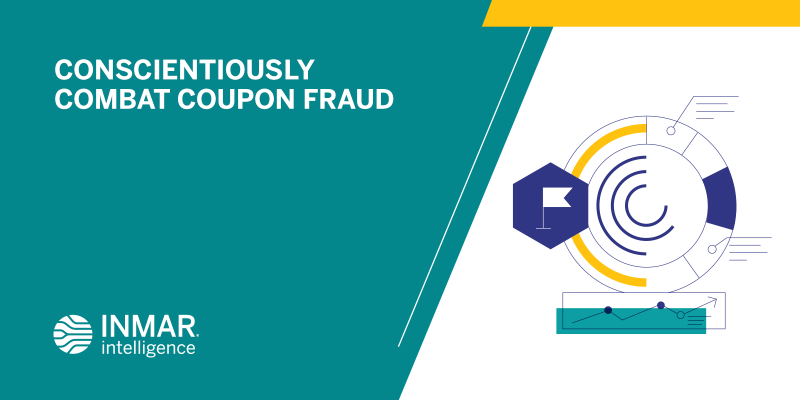 Coupon counterfeiting and fraud are growing challenges for promotion sponsors. Despite the industry's collective best efforts, identified incidents of fraud have doubled in each of the last three years. Industry-wide, manufacturers are dealing with an annual negative financial impact reaching into the millions. And that's just from counterfeit paper coupons.
As there's no real way to completely stop increasingly aggressive and sophisticated criminals from attempting to defraud, it's imperative that coupon issuers remain vigilant in their mitigation efforts and employ all possible controls to help ensure that their coupons are used as intended and achieve the marketing and promotional outcomes for which they were designed.
Here are five strategies for combating coupon counterfeiting and promotion-related fraud:
1. Control face values, along with redemption periods, and ensure family codes are accurate.
The higher a coupon's face value, and the longer its redemption period, the more attractive it is to those looking to exploit or counterfeit a promotional offer. Additionally, with the availability of coupon decoding apps, incomplete or inaccurate family coding on a coupon can be easily discovered and shared -- and exploited for improper redemption. To help combat this, offer values and promotion duration should be carefully managed for security as well as activation potential. And family code and barcode accuracy must be absolute.
2. Curtail use of print-at-home coupons.
Already suffering from a meteoric decline in popularity among shoppers, print-at-home coupons are the offer type most susceptible to counterfeiting and misuse. Even with printer controls enabled for these offers, they're easily copied, manipulated and shared. And, now, with the emergence of "IP Fairies" -- coupon sellers who use virtual machine equipment to quickly drain the entire inventory of a printable offer -- the risks associated with print-at-home-coupons far outweigh perceived benefits.
3. Consider validated trade promotions over instantly-redeemable and tear pad coupons.
While these two methods are effective in driving at-shelf purchase decisions, both coupon types are vulnerable to theft and illicit sale and distribution. And with IRCs, their improper removal may damage the promoted product and render it unsaleable. A much more secure option is a validated trade promotion. Effectively controlled and cost-efficient, "scan down" trade promotions are proven to drive incremental volume and deliver greater returns to brands through disciplined spending and waste mitigation.
4. Pursue alternatives to high-value consumer relations coupons.
Mistakes happen and relationships have to be protected and, therefore, distribution of these "apology" coupons is an appreciable strategy for assuaging hurt feelings. However, their high values or free product promises make them particularly alluring to counterfeiters and fraudsters. Therefore, promotion sponsors should consider alternatives such as prepaid debit cards, etc. At the same time, there are rapidly developing digital alternatives -- including conversational commerce solutions delivering personalized, promotional offers -- that should be explored for their greater capacity to eliminate the risks associated with this consumer relations effort.
5. Leverage existing industry resources.
Brands and retailers share the responsibility for, and the benefits of, timely dissemination of information around coupons identified as counterfeit. Both groups should take full advantage of the existing counterfeit coupon notifications and fraud alerts regularly enabled by various industry organizations and service providers. By using these resources to quickly share critical information, trading partners can help prevent greater illicit coupon use and minimize the costs incurred from this activity. In addition, future adoption of innovative promotion validation technology will be a significant, protective step forward.
While coupons aren't the same as cash, they are indeed a form of virtual currency. As such, they're subject to various forms of fraud and abuse. And, therefore, demanding of a concerted, conscientious effort to protect their integrity.
Topics