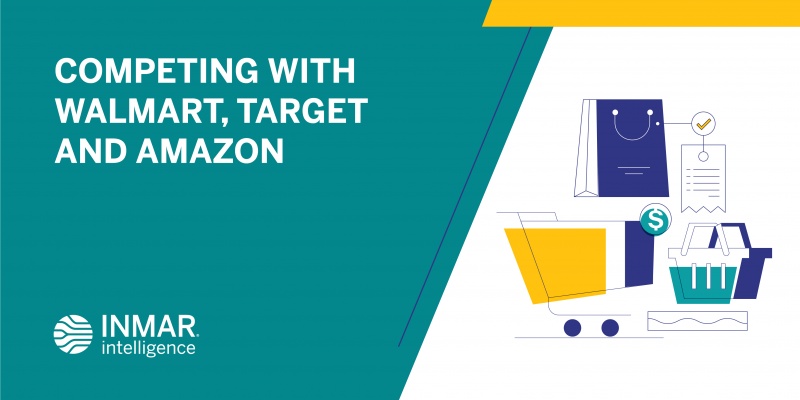 Learn how Audience Monetization and Advertising revenue diversification are critical to surviving the Retail Apocalypse.
The news that Walmart is taking over its website monetization business from Triad Retail Media is just the latest reminder (if one were needed) that retailers wanting to survive the Retail Apocalypse must be aggressively pursuing revenue diversification via Audience Monetization and Advertising. Those that do not adapt will likely face the prospect of joining the more than 57 other retailers that have gone into bankruptcy since 2015.
Walmart, Target and Amazon continue to double-down on deriving meaningful revenue streams from Audience Monetization and Advertising. Amazon's "Other revenues" category, about 90% of which is media and ad tech, was on pace for $10 billion last year and is projected to reach $38 billion by 2023. The result is that the additional revenue allows them to bring lower prices, better offers and incentives (like free shipping) to their customers. Retailers surviving on product sales margin alone will be increasingly challenged to attract and retain customers, because at the end of the day they will either have to stock less and less inventory or sell products at steep discounts, for a loss, or at low margin. To stay alive in the 21st century in retail requires more than throwing around buzzwords like "omni-channel marketing", integrating with a DMP, and selling website ads via one or more ad exchanges. Congratulations, you implemented Ads.txt, now what?
An Uncertain Future
Retailers that want to make it into 2020 and beyond must take an aggressive approach toward revenue diversification into Audience Monetization and Advertising, but not just on their own apps and websites. That's how Amazon launched their ad business leading them to become the 3rd largest in the world behind Google and Facebook. But in the end, even Amazon found that their walled garden simply wasn't big enough. They were leaving most of their opportunity on the table by only making their audience data available to advertisers on Amazon.com, so they expanded via their own publisher network and DSP solution to make Amazon product and brand data actionable at scale. Specificity of audience data by product and brand combined with transparency of the data source makes Amazon valuable, but it's the scale of the application of that data that attracts large ad dollars and makes this channel meaningful.
The problem for most retailers is that Audience Monetization and Advertising as revenue streams (if they are even on a roadmap) are low priority initiatives with funding, staffing, and vendor management challenges. What I often see is a fragmented execution of monetization and advertising revenue strategies with different teams involved in offline vs online, marketing vs monetization, a myriad of DMPs, SSPs, attribution vendors and other tech providers all mixed up, and sparse or inaccurate attribution data needed for real omni-channel intelligence.
Getting the Most Out of Monetization
For those retailers ready and willing to make Revenue Diversification a priority, these are the key milestones for putting together a successful Monetization and Advertising program:
Onboard all customer shopping and purchase data.
Merge online and offline shopping and purchase data at a customer level.
Utilize audiences to power on-site advertising (ex. Walmart taking this part over from Triad)
Make audience data available for use to advertisers in other advertising platforms, media and channels.
Provide real-time feedback loop for endemic advertisers across activation channels and devices
Steps 1 and 2 are the most difficult to get off the ground.  To get the most out of a monetization program, it's key for retailers to "digitize" all their offline customer data including: Loyalty Members, In-Store Sales Transaction Details, and full Customer Databases.  CDPs and DMPs specialize in supporting this step. Moving data between platforms can result in the loss of 20%-40% of unique customers even if ID counts seem to rise, which happens through ID mapping and cross-device expansion.  In an ideal world, the data is onboarded either in or as closely as possible to the platform(s) where media activation will take place. Inmar | ownerIQ's CoEx platform, for example, provides offline and online data onboarding paired with media execution and eliminates data loss while supporting cross-device expansion.
Sam's Club leveraging the IRI platform to help provide attribution for in-store sales to Hershey's so the brand can improve ROI from its digital campaigns is a great example of retailers "closing the loop" for their endemic brands.  Hershey was already working closely with Sam's Club on audience segmentation and media delivery, but real-time feedback is critical to maximize digital spend ROI.   Previously, IRI just provided a post-campaign lift analysis for in-store sales that was helpful in strategy and long-term campaign improvement. However, with near real-time data from Sam's Club via IRI, Hershey and other advertisers can now operate with actionable data to make changes to targeting, channels, and messaging intra-campaign.
Walmart taking the move to fire Triad and take their on-site monetization in-house and Sam's Club doubling-down on their investment in Advertising revenue by adding real-time attribution are just the latest evidence of the tidal change happening in Retail.  Only time will tell what businesses will embrace revenue diversification and survive the retail apocalypse. What is certain is that those retailers that do not implement successful Audience Monetization and Advertising revenue streams in addition to providing engaging solutions for their endemic brands will have a very difficult time competing against those that do.
So how do you get started?
Inmar | ownerIQ's CoEx platform offers retailers a complete, end-to-end tech stack to help you launch your data monetization and digital advertising business in a matter of weeks, all in one place, with minimal data loss and access to real-time online attribution and daily in-store attribution to power reporting and campaign optimization. Our platform replaces the need for retailers to onboard separate technologies that are expensive and time consuming to manage. With CoEx retailers can set themselves up to compete in the new age of retail by transforming their online and offline data assets into a digital ad business quickly and cost-efficiently.