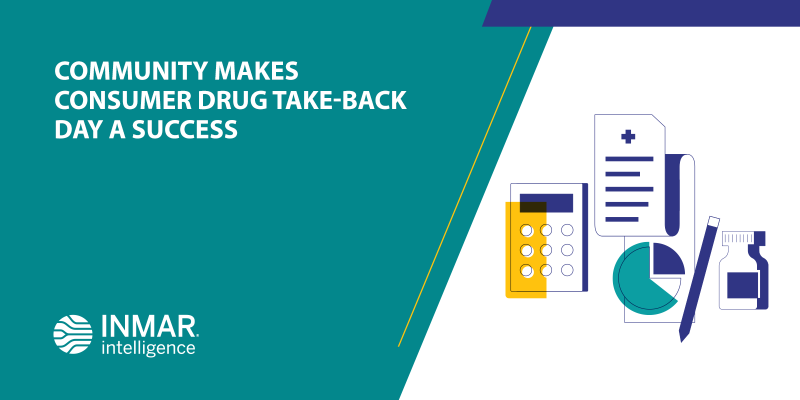 Did you participate in National Prescription Drug Take-Back Day? We hope so!
Inmar Intelligence hosted our third Consumer Drug Take-Back event in conjunction with the Winston-Salem Police Department on October 23rd. These Take-Back days provide a convenient and safe way to dispose of unused medications and a chance to help make our communities safer. Every participant is helping us bring awareness to the problem of surplus prescription drugs in our communities.
The DEA's National Prescription Drug Take-Back Day provides an opportunity twice a year for Americans to help prevent drug addiction, overdose deaths, and to protect the environment. "At our event last year, we collected as much unused and expired medications in just four hours as a typical pharmacy collects in six months," said David Mounts, Chairman and CEO of Inmar Intelligence. While it's true Inmar provides space and volunteers, it's the community itself that makes each event a success. 
During our previous two Take-Back events, Inmar collected over 500 pounds of unused and/or unwanted drugs. For the October 2021 event, we secured almost 330 pounds of medication. That was 267 pounds of prescription drugs and 62 pounds of sharps products.
Why are Consumer Drug Take-Back days important in your community?
On average, 265 Americans die every day from a drug overdose.1 After several years of that trend plateauing, COVID-19 increased the numbers by over 30%.2 
Each year, more than 60,000 children are treated in emergency departments due to accidental unsupervised ingestions each year.3
51% of people who misuse prescription drugs say they received them from a friend, relative, or the medicine cabinet at home.4 
37 different drugs were found in the water — after it was treated — at 25 drinking water treatment plants across the US.5
Consumer Drug Take-Back days have an impact on reducing the numbers above, leading to safer and healthier communities.
But you don't have to wait for a Take-Back Day to dispose of your unused and/or unwanted prescription drugs. Inmar is working with pharmacies across the US to make every day Consumer Drug Take-Back Day. By helping to expand public access to medicine disposal, we're able to assist in curbing all three of these epidemics — accidental overdoses, environmental impacts, and child poisonings. 
Inmar is committed to removing unused and unwanted prescription drugs from communities and providing safe and convenient disposal options. 
We hope to see you at the next Consumer Drug Take-Back Day event in April 2022!
Watch a Recap Video of the October 23 Event
1 12 Month-ending Provisional Number of Drug Overdose Deaths as of March 2021 reported October 3, 2021 – CDC
2  "Drug Overdoses Killed A Record Number Of Americans In 2020, Jumping By Nearly 30%" NPR July, 2021
3 "Medications: The Leading Cause of Accidental Poisoning Deaths in Children" September 2021
4 National Survey on Drug Use and Health SAMHSA September 2020
5 "There Are Drugs In Your Drinking (and Bottled) Water" April 2017