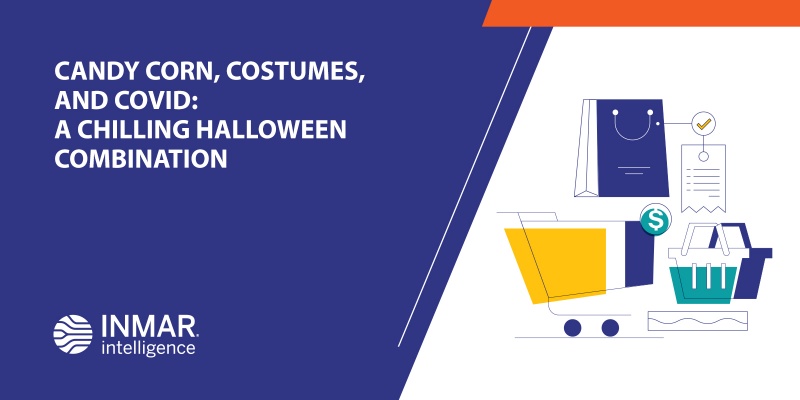 Although the summer of 2020 may have felt like the longest episode of the Twilight Zone yet, a spooky holiday is creeping up on us like a black cat in a graveyard. Indeed, fall foliage and pumpkin spice will remain a staple this Halloween season; however, social distancing and mask-wearing protocol may make Halloween a little extra eerie. 
172 million people celebrated Halloween in 2019 with 18-to-24-year-old consumers participating most in Halloween festivities. Although safety concerns remain prominent in the minds of many due to looming COVID-19 unknowns, consumers can still don their ghostly attire and devour seasonal treats for a frighteningly fun Halloween. 
Utilizing the expertise of our prescriptiveIQ™ insights platform and the results from our recent Holiday Trends survey sent to our influencer community, we've identified five content trends that will inspire you to safely get your spooky on this season.
Candy Carnival
We asked our influencer community about what the holidays may look like this year and how they are preparing for Halloween. 66% of the influencers surveyed mentioned that they were "excited, but cautious" about this holiday season. Eliminate the fear of door-to-door trick-or-treating and spread spooky cheer by hosting a small candy carnival in your backyard with family. Carve some pumpkins and indulge in decadent candy without the germs. 
Boo Baskets
Even as people embrace contactless interactions and observe social distancing, consumers can still get into the Halloween spirit by 'Boo-ing' their neighbors and friends with a delicious Boo Basket. Concoct a devilishly good Boo Basket with your favorite Halloween goodies and leave the basket on your neighbor's doorstep as a spooky surprise. 
Makeup Madness
Conversations surrounding "Halloween" frequently mention ladies, makeup, and photos. Host a ghoulish girls night with a photo shoot showing off your Halloween-inspired makeup looks. 
Cauldron O'Candy
With social distancing and an increased focus on keeping you and your family healthy, trick-or-treating might not include door-to-door candy pass outs. This year, families can celebrate with a spooky night at home with themed foods, costumes, and a basket of sweet treats outside the front door.
Howling Movie Night
Although we may have to leave the door to door trick-or-treating to the invisible Halloween spirits, consumers can still celebrate the spooky season at home. Grab some popcorn, your favorite treats, and a magical movie for a Halloween night inside with family.
27% of posts about Halloween reference Halloween movies and television
+29% of conversations surrounding "Halloween movies" mention The Walt Disney Company/Disney Channel
31% of people engaging online with "Halloween movies" are 25-34 year olds 
Don't let COVID-19 haunt your Halloween celebration. If you'd like to talk to a solutions expert about how you can incorporate these trends into your next influencer campaign, contact us today.