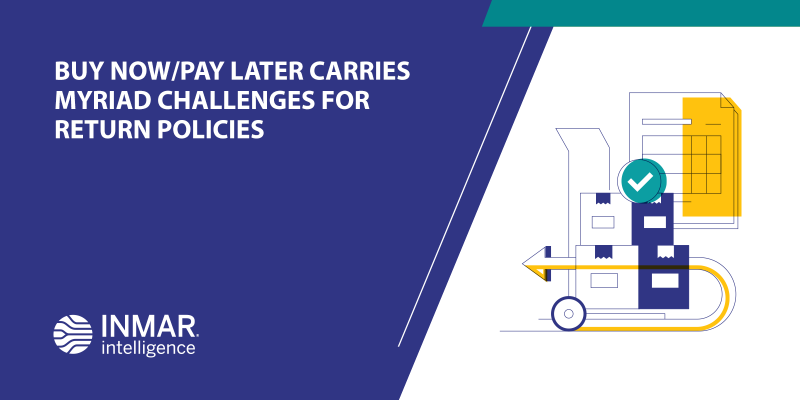 First published on PaymentsSource.com -- March 17, 2021
On the surface it presents as a not-bad idea. Enable an online shopping experience that drives purchase by providing consumers the ability to order immediately and pay over time. Accelerated sales and initial shopper satisfaction, right? It's an obvious "win-win." Or so it would seem. 

The truth, however, is that even a cursory look at the expanding "buy now, pay later" (BNPL) activation strategy reveals any number of issues for sellers that could negatively impact both profitability and customer relationships.
The inevitable problems will not likely originate from audience engagement or order enablement. Those functions appear to be working. Eliminating the requirement for up front payment-in-full is already proving to be very attractive to many online shoppers -- particularly younger, less credit-conscious consumers. 

The real trouble for retailers lies in achieving truly effective returns management. E-commerce returns volume is exponentially greater than that of physical stores and those retailers using BNPL must be prepared to efficiently manage what's going to come back. But, properly handling returns to ensure compliant disposition while maximizing value recovery is only where the reverse logistics challenges begin.

The fact that shoppers will undoubtedly return some or all of the items purchased in a single order -- before they have finished paying for that order -- adds an additional layer of complexity to the already-complex returns and refund function. Reconciling the balance due on purchases with the amount to be refunded to shoppers demands serious synchronization between the retailer's payment clearing provider, their returns provider and their own internal accounting. Add to this the need for transactional visibility by all parties, including shoppers, and the infrastructure demands only intensify.

With multiple players involved in executing returns, the potential for an unhappy customer experience is also very great. And that could prove disastrous. Shoppers have made it very clear that they expect an effortless returns experience and have demonstrated, repeatedly, that they will avoid retailers unable to meet those expectations. 
Poor returns management means lost business. There's no simpler way to say it.

The "forward promise" of BNPL is understandably alluring to retailers as they seek to increase competitiveness and meet shopper demand for immediate fulfillment. However, any failure by retailers to fully and effectively execute on all post-purchase business requirements and that promise will quickly turn to pain.