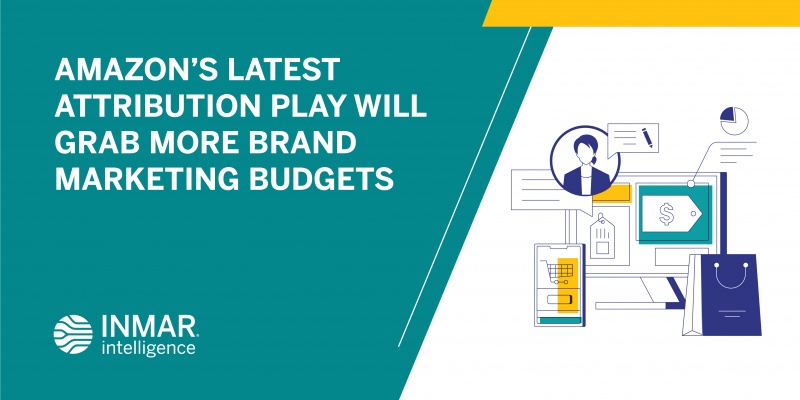 Amazon, the retail giant, seeks to influence advertising budget by controlling the narrative around campaign performance. In a recent article by Seb Joseph in Digiday, "Amazon is testing an attribution pixel, a key step in rivaling the duopoly," the retail giant is testing a new attribution tool that will allow advertisers to view performance of their Amazon Advertising Platform campaigns against their campaigns that are run on other publisher sites and/or digital channels. The report will likely include Amazon.com-focused performance metrics such as page views, purchase rate and sales. As an example, Dell would use this tool to measure how effective their Amazon's Advertising Platform budgets were at driving visits to Dell product pages and sales of Dell products on Amazon.com versus their search campaign, or their ads on AOL properties, etc.  This is a way for Amazon to stack the deck and grab more marketing dollars.
As the article suggests, this latest feature is part of a larger strategy to help the retail giant further challenge the ad duopoly of Google and Facebook. The approach Amazon is taking is relatively straightforward and is actually copied from the duopoly's playbook. What retailers should be concerned about is losing more of their brands' marketing budget to Amazon.   
Campaign performance dictates where brands will allocate their ad budgets
Using their new attribution tool, Amazon will create a narrative around performance- that spending dollars with the Amazon Ad Platform is the best option
As brands become convinced that their ad dollars on the Amazon' platform are driving higher page traffic and sell-through of product, they will invest more dollars in the platform
Other retailers' share of co-op and discretionary ad budgets will be negatively impacted as a result.
Retailers, it's time to wake up, you need to get in the game and compete. All retailers must have a way to challenge Amazon's view of the world. Amazon needs to show brands that investing ad dollars to support products on their (i.e- the retailer's) e-commerce site, or in their stores, will generate a positive return.
It's not all bad. The good news is that there is an existing marketing technology that can help retailers launch their own competing attribution tool. However, retailers should be thoughtful in what technology they invest in. Cobbling together disparate point solutions could lead to unnecessary costs and inefficient workflows. Things to consider when evaluating available solutions:
Is the platform designed to ingest all types of browsing and sales data from retailers (digital and "offline" data sources)?
Are you able to report down to the item and customer level ie SKU, store level, customer type?
Do you have a retail-oriented taxonomy to organize the data against
Can you connect users to their cross-channel behavior via identity graphs
Does the closed loop attribution solution include e-commerce as well as in-store data?
How actionable and real-time is the data?
Inmar | ownerIQ's attribution solution launched in Q4, 2017 offers retailers this precise framework. We enable our clients to transform their browsing and sales data into a full reporting suite that helps them demonstrate to brands the impact of their marketing dollars on attributable sales and revenue. 

If you are a brand or retailer interested in a closed loop attribution solution that gives you real-time sales impact, reach out to us at oiq_info@inmar.com.