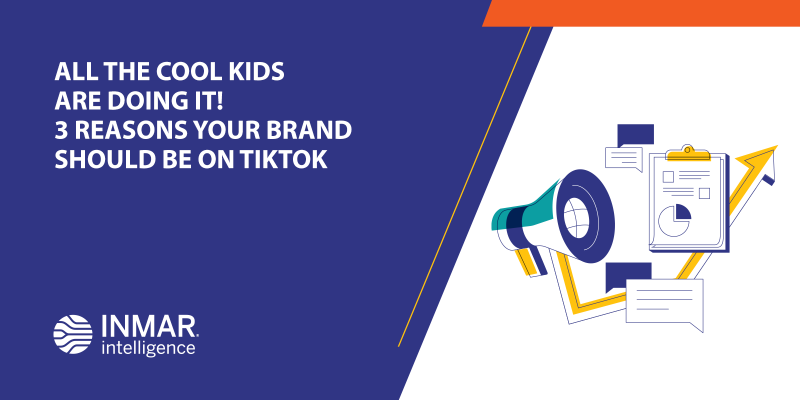 TikTok, the latest social media darling on the scene has taken the world by storm. The app has been growing in popularity in the US since it merged with Music.ly in 2018, but app downloads and usage spiked as a result of the coronavirus pandemic. TikTok added more than 12 million US unique visitors in March, reaching 52.2 million, and between January and March, its US unique visitor count rose 48.3%.
TikTok's success can be largely attributed to consumers spending more time at home and how easily videos can be shared and discovered across platforms. With schools shuttered and employees working from home, social media consumption is continually rising as consumers look for easy entertainment options. 68% of consumers aged 18-34 reported that they are spending more time on social channels. Because TikTok videos can be easily shared across popular apps like Instagram, it's much easier to drive traffic back to TikTok to discover similar content. Also, there's no need to create an account or log in to view a video, which just makes consuming more content even simpler.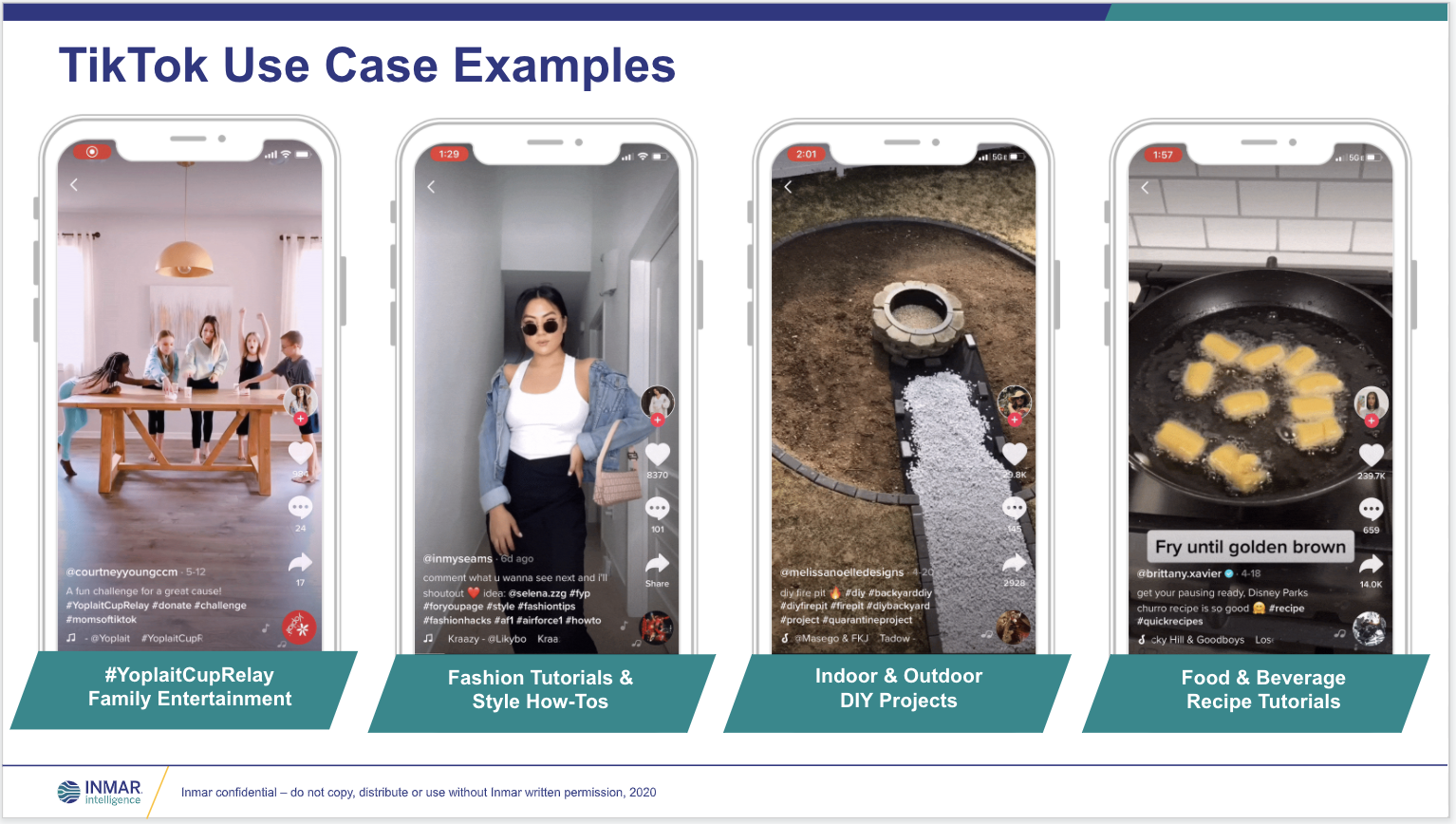 If we haven't already inspired you to start marketing on TikTok, here are three reasons to start today: 
It's a high-growth platform that spans across demographics and interests
In Q1 of 2020, TikTok beat records for mobile downloads, generating the most downloads for any app ever in a quarter. And TikTok's appeal isn't limited to just Gen Z and Gen Y. Between January and April, usage rates among consumers aged 25 - 34 rose from 22.4% to 27.4% and rose from 13.9% to 17.1% among consumers aged 34 - 44.
Because of TikTok's unique content style, the platform offers something for any consumer. Content ranges from trending dances, cute dog videos, and pranks to science experiments, makeup/fashion tutorials, and recipes. 
TIP FOR BRANDS: The possibilities for unique and interesting content are endless, so don't pigeonhole your brand into one style of content - experiment and see what different audiences engage with. 
It's a way to make authentic connections and have some fun
TikTok offers creators the ability to put a lot of work into their content (with complicated transitions and effects) or create quick-engaging videos (trending dances or challenges). Often the content isn't filtered or perfectly rehearsed and posed, helping to create a more authentic connection between the creator and their audience. 
On the platform, creators often mix their more curated content with moments of real truth, vulnerability, and humor. Because the app's content feels more casual, consumers can feel free to have more fun and experiment with silly content or post videos of dance outtakes without worrying about "messing up their grid".
TIP FOR BRANDS: Because trends come and go quickly, it's important to be nimble in your content creation to capitalize on organic views and searches for trending hashtags and challenges. But, don't be afraid to show the human side of your brand - highlight employees or corporate initiatives that will resonate with TikTok users.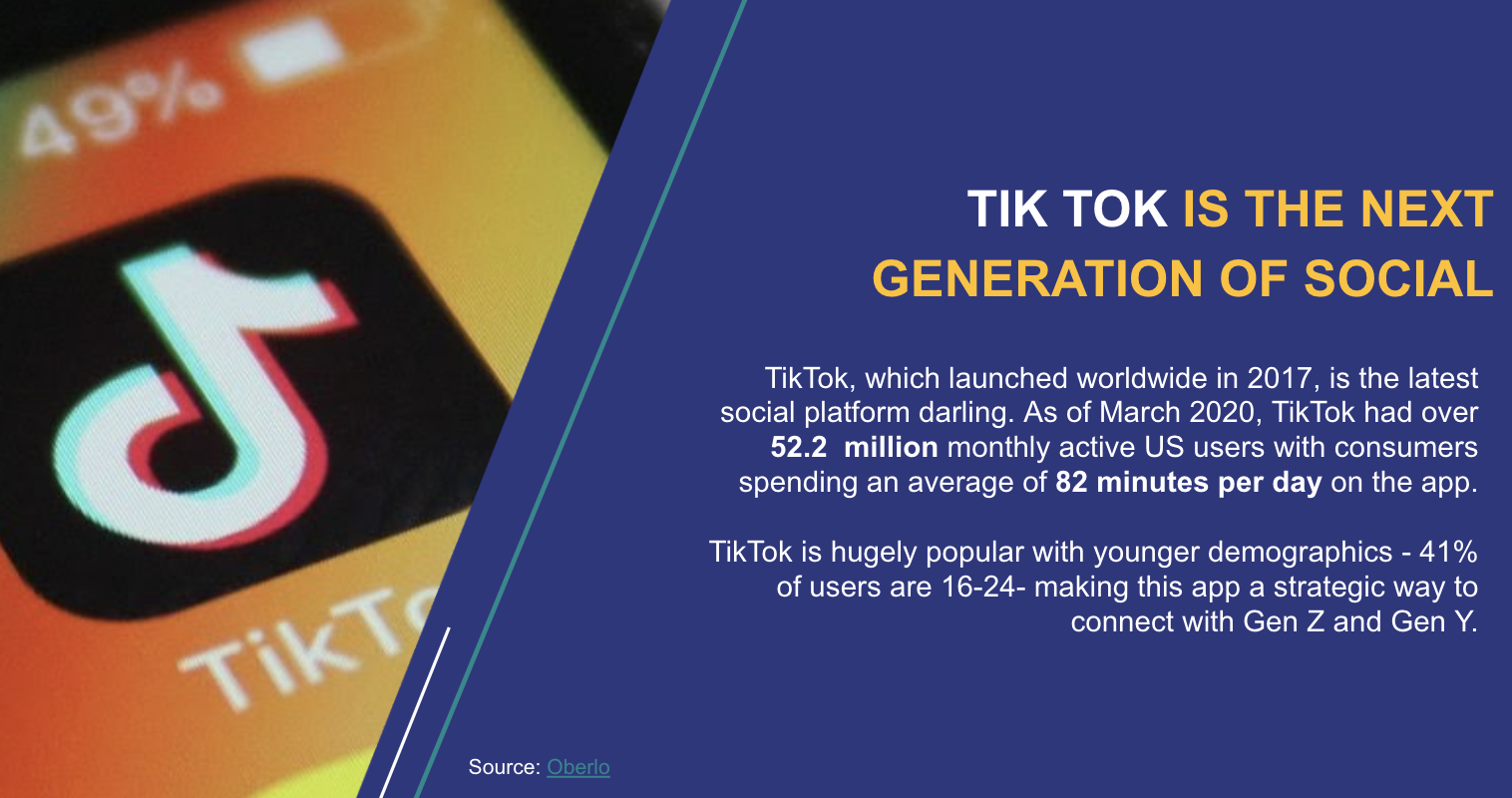 The audience is active and engaged
Not only is TikTok's audience actively growing, but users are highly engaged on the platform. In March, US consumer's time on the app was up 26.2% over January 2020 and 93.7% since October 2019. The engaging and entertaining content being created on TikTok has quickly formed a habit for many people with 90% of users accessing the app daily. 
Full-screen, disruptive videos make this the perfect platform to get your brand in front of a new group of consumers or to show off your brand's products in a new light. 
TikTok usage might have spiked during the height of the coronavirus outbreak, but this platform isn't going anywhere. Consumers have been looking for a platform that allows them to do and share all of the things they are interested in - recipe videos, makeup tutorials, outdoor DIYs, crazy neighbor stories, embarrassing moments, fun dances, and silly challenges - and TikTok is the answer. 
Download our full TikTok Starter Guide.