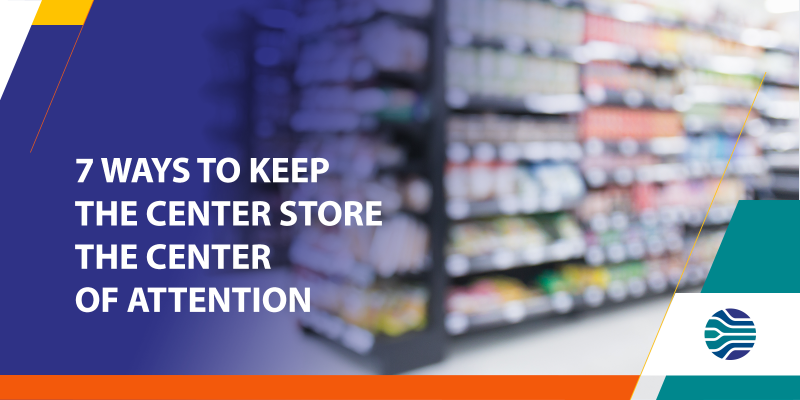 Like everything else in the retail world — and especially grocery — the center store is facing unprecedented pressure to rapidly react and evolve to meet new shopping habits. If the past two years have taught us anything, it's that planning is critical even when those plans go up in smoke. And, while none of us might ever feel truly confident predicting and forecasting a year in advance again, there's one sure thing we can all bet on — the pace of change is going to continue accelerating. Shoppers have gotten a taste of what it's like to be in the driver's seat, and enjoy having retailers compete for their loyalty with more than just great deals. They're also increasingly willing to try other stores, or e-commerce options, if they aren't happy. So, what does this all mean for the center store, which retailers have used since the dawn of time to attract shopper eyeballs and dollars? 
In a nutshell, it means the center store is more important than ever. Which is why these 7 insights, gathered from our recent consumer and retailer surveys, are so valuable. 
1 :: In-store merchandising is the gateway to center store success
58 percent of all shoppers enjoy in-store browsing and treasure hunting. That's why, even for shoppers who fully embraced e-commerce options during COVID-19, in-store shopping is still so desirable. However, these phygital explorers still expect a little guidance. Tools like intelligent in-store media are just the ticket to satisfy shoppers' desire to treasure hunt and their need for a treasure map. So it's a good thing 67 percent of retailers plan on introducing new merchandising over the next year. 
2 :: When it comes to the center store, more is definitely not better
We heard it loud and clear in these recent surveys — both shoppers and retailers are looking for more efficient product assortments. While 63 percent of shoppers want a better selection, they don't mean "more." In fact, 29 percent want fewer products. These shoppers want retailers to do the heavy lifting for them, by reducing duplication without sacrificing quality. 20 percent of retailers agree that reducing assortment is a key objective over the next two years, and 53 percent plan to reduce SKU amounts over the next 12 months. 
3 :: Personalization is essential
As customers continue to divide their time between shopping in-store and online, it's even more important for retailers to focus on data-driven, personalized recommendations and offers to drive center store growth. 42 percent of shoppers are already looking for "better recommendations" when shopping online for groceries, and that number is likely to increase. Not surprisingly, 41 percent of retailers will be enhancing their personalization technology over the next two years to keep up with this demand. 
4 :: If it's frozen it's golden
Maybe shoppers are tired of take-out, yet still not ready to embrace eating out, because frozen food sales have seen incredible growth during the past year. In fact, when we asked retailers which center store department had seen the highest sales growth at their company over the past year, 31 percent said it was frozen foods. 
5 :: Shelf-stable foods are about to heat up
While frozen foods saw an incredible jump over the past year, and retailers expect them to grow an additional 28 percent over the next year, shelf-stable foods are poised to experience even more impressive growth. The retailers we surveyed told us they believe these long-lasting crowd pleasers will grow by 29 through 2022 — just edging out their frozen counterparts. 
6 :: Ethnic is booming online
Frozen and shelf-stable foods still do well in the online center store results, but it's the ethnic aisle that grabs the most shopper attention and dollars. ​​And ethnic foods are a great way to enhance variety with new products shoppers are willing to try.
7 :: Special promotions deserve some special attention
Center store sales are critical, so what's the best way to attract shoppers? According to the retailers we surveyed, it's all about using special promotions to draw customers in and get them excited. 52.08 percent of respondents said these special promotions were the key part of their plans to boost center store sales over the next two years. 
Retailers agree. Center store sales are looking up.
Regardless of the pressures the center store faces, our survey shows that retailers are optimistic about sales over the next year — with almost 25 percent saying they believe sales will "increase a lot." Yes, there are some big threats like Amazon — which 45 percent of respondents say is the biggest threat to center store sales. But with the right focus, and by taking the necessary steps to evolve along with shopper habits, the center store will continue to flourish.