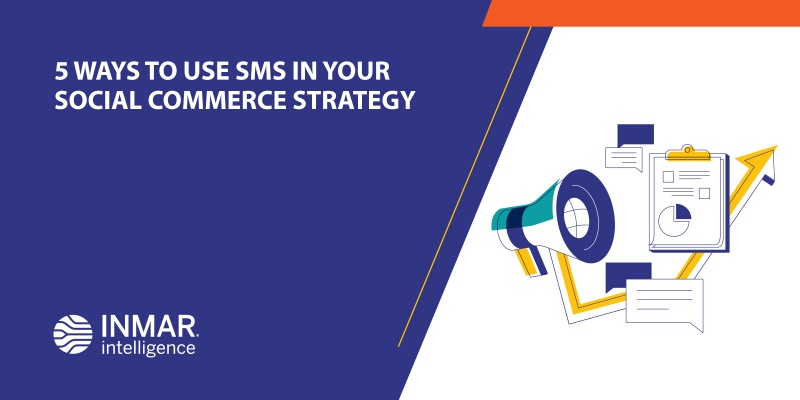 After the e-commerce explosion in 2020, consumers are ready to communicate with brands through new channels like SMS. As the percentage of consumers who shopped "heavily or exclusively" online grew 133% between September 2019 and September 2020, so did the need for consumers to quickly communicate with brands and retailers virtually. Companies that start employing an SMS marketing strategy today will be well-positioned to win customer loyalty for years to come.
Here are 5 ways you can leverage SMS messaging in your Social Commerce strategy to reach consumers.
1. Provide seamless customer support
Chatting back and forth through SMS, even with a brand, is a familiar habit for 98% of US adults aged 30-49 and for 100% of adults aged 18-29, according to Pew Research Center. 
SMS gives consumers a platform to get answers to frequently asked questions about flavors, nutritional information, store availability, active promotions and more — without having to download a separate app. While SMS is a cost-efficient option for handling customer service requests, for a truly seamless customer experience it must be integrated into other support channels. 
2. Offer personalized, time-sensitive promotions
Open rates for text messages are over 5 times higher than email, making this the perfect channel to send shopper time-sensitive messages or promotions. Types of time-sensitive messages include sale alerts and last-chance messaging, to let consumers know about expiring offers. 
Consumers enjoy chatting with brands to get access to exclusive offers. In a recent survey, Inmar found that 37% of consumers chatting with brands were trying to acquire a rebate or promotion. To fully utilize SMS as an offer channel, customize your messaging campaigns with exclusive deals or personalized product discounts.
3. Facilitate commerce and drive-to-purchase
Reminders to complete e-commerce transactions are an effective use of SMS, but messaging can also help influence purchase decisions. SMS can be used to create a path to purchase, engaging and educating shoppers with personalized product recommendations. 
Using SMS in this way has two major benefits for brands and retailers — increased customer satisfaction and cart conversion. 91% of consumers are more likely to shop at places that provide relevant recommendations and offers, and shoppers who click on personalized recommendations are 4.5X more likely to add items to their cart and complete their purchase. 
4. Engage customers while building your brand
SMS marketing doesn't always have to be about immediate sales. It's also an effective channel for encouraging customer engagement and increasing brand sentiment. You can treat your SMS subscribers to exclusive content or sweepstakes, or use those tactics to build your SMS subscriber list for future marketing campaigns. 
Sweepstakes or instant-win contests have been shown to drive long-term customer engagement. 85% of consumers continue to engage with the brand even after the contest is over — and sweepstakes have been shown to positively influence purchase decisions for almost 75% of participants. 
5. Educate and inspire
One of the most overlooked steps in a shopper's journey is product education and trial inspiration. While some consumers know exactly what they want, and are looking for the quickest and easiest way to make that purchase, many others are simply researching before making a purchase. Some are even looking for a reason to purchase, even if they don't realize it. 
SMS can be a great tool for brands and retailers to share content —  like recipes, styling tips, or product recommendations — with their shoppers, to educate them on available product offerings and inspire trials. For example, a skincare brand might use SMS messaging to send their subscribers a quiz to determine their skin type, and then recommend products or a skincare regimen based on their personalized results. Messages focused on education and product inspiration make a great base for a year-round, social commerce-focused messaging strategy that keeps consumers engaged while still influencing purchases. 
To learn more about how we can help brands and retailers use messaging for personalized, 1:1 consumer engagement, contact us today.