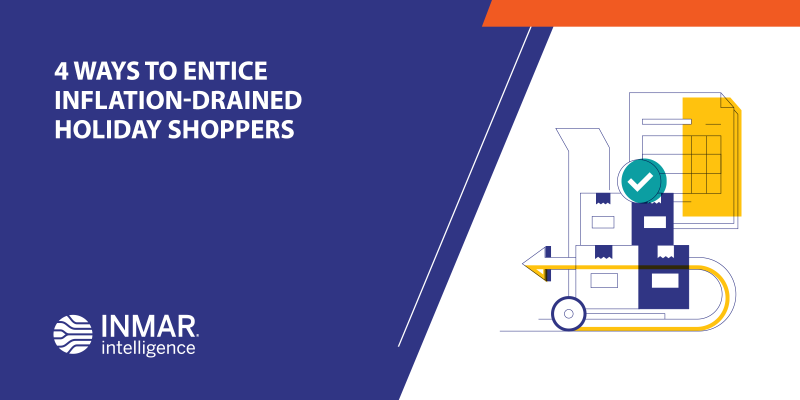 When it comes to holiday spending, nobody likes having to count their pennies. But this year's rising prices aren't giving consumers much choice. If retailers want to avoid thinning margins, they'll need to be sensitive to shoppers' wallets — and use these four savvy strategies to help customers (and the market) get more from holiday spending.
1:: Promote Early
With inflation diluting disposable income, shoppers will either be forced to pare back on spending — which no one wants to do — or spread their spending over a longer time frame. That longer time frame means they'll need to start their holiday shopping earlier, and many already have. A recent Inmar Intelligence survey showed 73 percent of shoppers have either already started or will start their holiday buying in October, and according to Statista, 38 percent of US shoppers who participated in Amazon's Prime Day (July 12-13) made holiday purchases. The Average Sales Price (ASP) is also expected to increase 8-12 percent per month for the remainder of the year. This means the shopper's purchasing power will diminish significantly simply by waiting. An item that costs $100 in September may jump to $130 in December. This year, it pays to be an early bird on both sides of the market.
2:: Offer Special Discounts
While it might not be possible for discounts to be as deep as in years past, retailers should look for clever ways to reduce consumer cost —  like product bundling, cross-promotions and tiered pricing. Manufacturers selling directly to consumers can benefit greatly by connecting savings to sales thresholds. For example, placing orders that total $100 earns a 5 percent discount. Orders totaling $200 earn a 12 percent discount, while orders totalling $300 are discounted by 20 percent. This incentivizes shoppers to spend more with the manufacturer while still offering them a bargain.
3:: Reduce Shipping Costs
Retailers are feeling inflation's price increases, too, but they shouldn't pass those fees on to customers. Encouraging shoppers to opt for a fee-free drop-off location, versus at-home delivery, saves everyone in fees and transportation costs. Similar incentives are offered for returned goods. Customers simply drop off the return at the closest pick-up / drop-off (PUDO) returns network retailer — a participating supermarket, drugstore or dollar store. Considering 70 percent of shoppers report making an incremental purchase during that drop off, PUDO is a win for merchants too. Minimizing the number of boxes and the amount of packaging used can also help. And it provides the benefit of more sustainable delivery options. Something else today's shoppers care about.
4:: Master the Customer Experience
Did you know a whopping 60 percent of returns are caused by the merchant? That's pretty scary when you consider 83 percent of shoppers abandon a brand after one bad return experience. Poor communication, shipping issues, and price fluctuation all take a toll on a merchant's credibility. But if that sort of friction can be lessened (or removed) from the merchant's purchasing and returns processes, the payoff in customer experience and satisfaction will continue to deliver value after the holidays — both in consumer loyalty and bottom line.
Holiday shopping can survive rising prices. With planning.
Will this season's market be a little more challenging? Of course. But by following these four strategies to help customers manage their spending, both merchant and consumer will be on the path to a more successful holiday season.