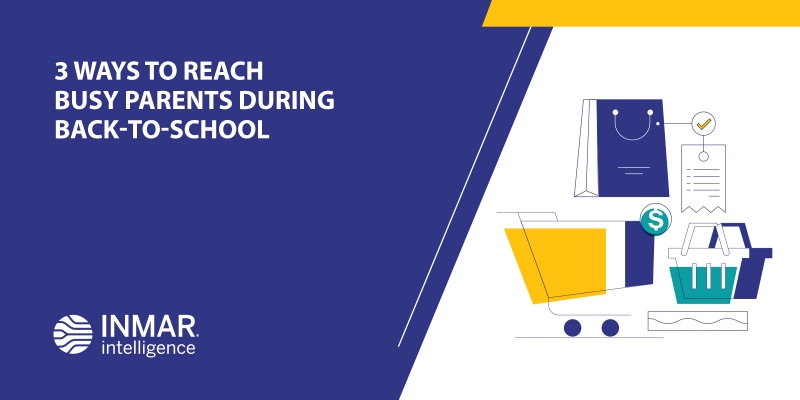 After a tumultuous year, parents are hoping for a bit more certainty during the upcoming back-to-school season, and they are looking to their favorite brands and retailers to make this school year a bit less stressful. Parents are looking for simple meal solutions, savings on back-to-school staples, and are seeking inspiration on social media. 
Savings Will Get You An A+ From Parents
This season, 38% of parents are worried about finances. To make up for back-to-school overspending, 54% are couponing more frequently, and 60% say they visit multiple stores in search of sales items. Setting students up for success with the supplies they need, while providing savings for families, will help you get an A+ with parents this back-to-school season. 
Make saving simple for busy parents by creating a one-stop-shop for their back-to-school needs — complete with integrated offer clipping, recipe or product inspiration, and seamless add-to-cart functionality making purchase decisions as simple as a "click."
Meet Back To School Parents Beyond the Playground
In 2020, one-quarter of parents planned to use a social media site to assist in their back-to-school shopping. And, 80% of millennial moms use their smartphones to help them shop while they're in-store, whether to download coupons, check product reviews, or check prices. Activate your digital strategy across social platforms to reach these parents — who are planning their back-to-school shopping trips, looking for inspiration, and shopping for surprises and essentials to get themselves and their family ready for the new season ahead. Your back-to-school message can include influencer content, promotional offers on social media, and paid targeted media on social platforms. 
Don't Play Get-To-Know-You Games With Parents, Personalization is Key for Back to School
Parents are more likely to provide data about their shopping habits and back-to-school plans in exchange for personalized content that resonates with their stage of life. As marketers, it's our responsibility to craft content for Millennial moms, parents with kids heading to college, and the dad who is a seasoned professional at back to school. You can't reach all of them with the same canned back-to-school message. You're going to lose parents with kids going back to college if you send them $5 off a nap map. Send these parents deals on printers, microwaves, and coordinating bed sets.  Be concise, be intentional, and be personalized with every promotion, thought leadership piece, and in-store sign you place. 
Download our Back-To-School Persona Guide for more lessons on how to reach shoppers this season. These insights are sure to earn you an A+ this fall.