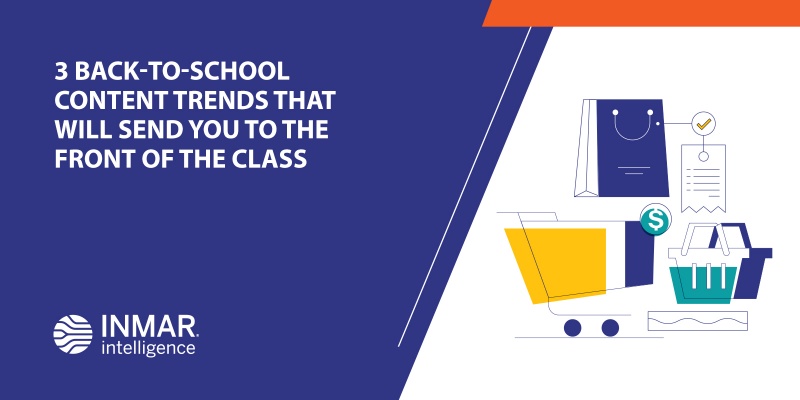 Are you ready to create content that will connect with shoppers as they head back to the classroom? It might be difficult to predict what heading back to school will look like this fall, but that doesn't mean consumers aren't planning their shopping lists and getting ready for the new school year. Brands will need to be sensitive to the uncertainty most consumers are facing while planning their content strategy and offer ways to make this time easier, less stressful, but still fun. 
Utilizing the expertise of our influencer community and our prescriptiveIQ™ insights platform, we've identified three content trends that will resonate with shoppers this season. 
Back-to-School is Looking a Little Grungy
Consumers are leaving the glitz and glam of the roaring 20s behind and embracing a new, more grungy decade -- the 90s. Scrunchies, Game Boys, and butterfly clips are entering the premise, reminding millennials of fond memories and piquing the interest of Gen Z, who are quick to add their own flair to the decade look. 
+292% Pinterest searches for "90s fashion grunge" are soaring as combat boots and flannel make a comeback.
+6309% Scrunchies are making a huge comeback as consumers gravitate toward comfy outfits and athleisure, but many fashionistas treat scrunchies as a key accessory sporting them in luxe materials and elevated designs. 
+144% Lip Gloss is poppin'! Beauty lovers have been quick to embrace a glossy (maybe even a glitter!) lip to put their best 90s face forward. 
Make Mealtime Stress Free
Besides nailing the perfect 90s "fit", parents and college-age students are also concerned with making easy meals to take the stress out of meal preparation. Consumers want ingredients and recipes they can trust - without the hassle - but preparing epic school box lunches or crowd-pleasing school dinners is consistently a huge stressor during the back-to-school season. In fact, 60% of parents say they struggle with variety, healthy ideas, and finding items that will stay fresh in their kid's lunch boxes. 
Show consumers how they can rock their dinner meals and lunch boxes with quick, easy recipes that satisfy everyone in the family. 
30% "Quick and Easy Kid Dinners" over-index in back-to-school related searches as parents stress about making meals the whole family will enjoy.
44% of back-to-school dinner posts include the mention of  "trust" - trusting ingredients, trusting a recipe, and trusting a retailer's inventory when shopping or ordering groceries. 
17% of kids actually "like" the items in their lunch.
Face Mask Frenzy
We asked our influencer community what trends they plan to post about during back to school - from parents to college students to teachers - and they all planned to talk about how to rock a face mask. 84% of Americans have worn a mask in public in an effort to limit the spread of COVID-19, and masks will likely play a large role in students' lives as they head back to class. 
Porsha (@missporsha) says, "I can totally see cute little cartoon-themed face masks and even decorative hand sanitizer clips for backpacks being very popular." 
Mimi (@mimi_litecky) thinks, "Masks will definitely be a trend, primarily for safety, but also I know people who are custom making and designing their own masks". Mimi also mentioned that tie-dye everything is super popular with college-age students, so expect to see tie-dye masks in your classroom. 
If you'd like to talk to a solutions expert about how you can incorporate these trends into your next influencer campaign, contact us today.